Rowena Punzalan, MD - Medical Director Transfusion Medicine
Blood Banking/Transfusion Medicine Fellowship Program
This program, jointly offered by Versiti and the Medical College of Wisconsin, aims to train future leaders in blood banking and transfusion medicine.
Transfusion Medicine Blood Banking Fellowships

Our Blood Banking/Transfusion Medicine (BBTM) Fellowship Program, jointly offered by the Medical College of Wisconsin and Versiti Blood Center of Wisconsin, aims to train future leaders in Blood Banking and Transfusion Medicine.
This one-year fellowship provides graduates with a wide range of training that prepares them to undertake any job in the field of blood banking/transfusion medicine (BBTM). Transfusion medicine, pathology and hematology faculty from Versiti and the Medical College of Wisconsin Department of Pathology provide clinical, educational and research mentorship.
Core rotations:
Transfusion service and therapeutic apheresis consults (24 weeks)
Basics of therapeutic apheresis
Immunohematology (4 weeks)
Hemostasis, platelet and neutrophil immunology, histocompatibility, and immunogenetics
Stem cell processing
Organ and tissue donation
Blood center operations and quality
Blood collection and processing
Donor management
Donor testing
Quality management and regulatory
Research
Elective
In addition, we offer a uniquely flexible curriculum that allows the fellow to identify a particular area of interest and spend additional time in training and research. Current training tracks include:
Coagulation
Therapeutic apheresis
Pediatric transfusion medicine
Immunohematology
Other features:
Didactic teaching
Weekly lecture series covering all aspects of BBTM
Journal club
Research talks
Teaching residents, medical technologists, medical students, Specialist in Blood Banking students and other allied health professionals
Research
Protected research time
Mentoring in clinical, basic science and translational research from medical and research faculty at Versiti Blood Research Institute and the Medical College of Wisconsin
Training Locations
Internationally known diagnostic reference laboratories in immunohematology, platelet and neutrophil immunology, hemostasis, histocompatibility, and molecular diagnostics
Versiti Blood Research Institute and Versiti Medical Sciences Institute
Versiti Blood Centers in Illinois, Indiana, Michigan, Ohio and Wisconsin
Froedtert Hospital is a 400-bed, level 1 trauma center with programs in hematopoietic stem cell transplantation, CAR-T therapy, high-risk obstetrics, solid organ transplantation, sickle cell disease, hemophilia and neuromuscular disorders.
Children's Wisconsin is a 300-bed tertiary care pediatric hospital and level 1 trauma center with programs in cardiac, renal and liver transplantation; hematopoietic stem cell transplantation and CAR-T therapy; oncology; sickle cell disease; and hemophilia.
The Advocate Aurora system includes a quaternary care hospital that specializes in cardiothoracic surgery, a maternity hospital and several community hospitals, with a total of 80,000 transfusions and 2,500 serologic workups per year.
Application
All candidates must be certified or eligible for certification in clinical pathology, hematology/oncology (adult or pediatric) or other major specialty boards. Stipends are commensurate with the level of relevant post-graduate training and expertise.
Applicants are currently being accepted for 2025-2026, 2026-2027, and 2027-2028 academic years.
Eligible candidates interested in applying should send their CV and a letter of interest to:
Living in Milwaukee
Located on the shore of Lake Michigan, Milwaukee is a city with a small-town feel. Museums, festivals, amazing restaurants, sporting events and brewery tours are just a few of the great things to do here. Chicago and Madison are also a short drive away. Learn more about relocating to Milwaukee.
Alumni
100% of alumni have passed the American Board of Pathology BBTM board exams on their first try. After completion of the transfusion medicine fellowship program, our alumni have gone on to work in several types of practice settings located in the United States and Canada.
Alumni Locations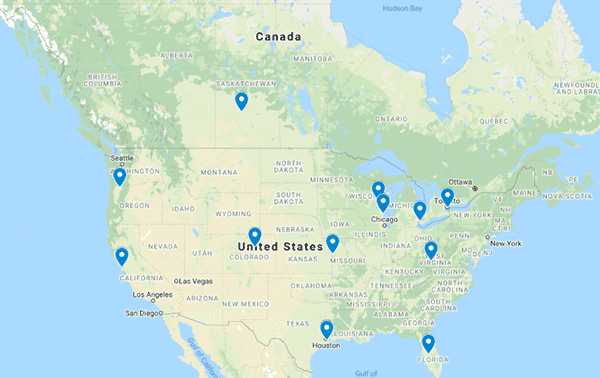 Areas of Focus